Meet Marilyn
Hi, my name is Marilyn Rigby, and I am running for a position on the Utah House of Representatives in District 75. (St George City)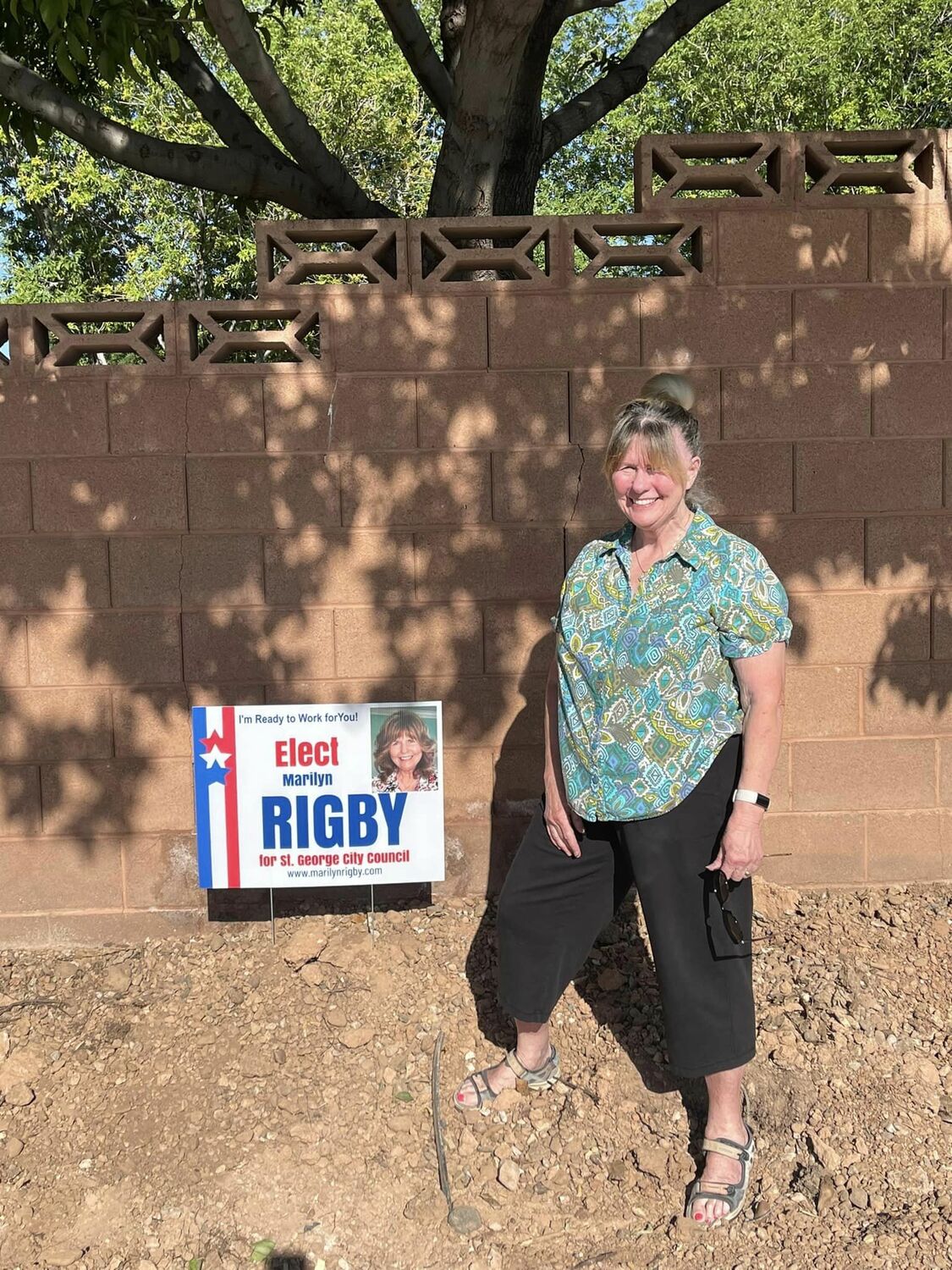 I believe the positions that we hold in public office, especially locally, are extremely important and touch our citizens at the grassroots of our nation. When we listen and help our communities, we, make a better world for all of us.
I am a mature woman who has lived in this community for over six years. I love the beauty of Southern Utah and the wonderful people who live here. I am married to a great man who spent 37 years as a Police Officer, Detective, and Police Administrator both in California and Utah. He retired from the Murray City Police Department as Commander of the Criminal Division in 2007. We settled in St. George. He will be an asset to me because of his knowledge and experience. We have three wonderful children, two small dogs, and 13 grandchildren who visit often. We just moved to a new home in the ST. George area. We love a good movie and I enjoy a nightly walk. We enjoy people and good friends and a barbeque. I love all of the seasons in St. George. I make jewelry and I love to paint. I feel that I can make a difference in this growing city. I have experienced the growth of SLC, Utah, and developments good and not so good in Southern California. I feel if we work together, we can grow safely while taking care of all our citizen's needs.
I have a degree in Nursing and am currently licensed in the state of Utah as a Registered nurse. I worked at many hospitals in the Salt Lake area. I was employed by Intermountain Medical Center for 27 years. Before my work as a Registered nurse, I worked with a doctor from California as a Medical Assistant. Dr. Van Wagenen taught me many things and got me started in the medical field. We moved to Utah where I obtained a position as a Phlebotomist at Primary Children's Hospital. I advanced to the position of Supervisor of the Phlebotomy Team. I left Phlebotomy and was hired as a Coordinator in the outpatient department. In that position, I scheduled all the clinics and appointments. I supervised 4 employees. Primary Children's then asked me to begin working along with a physician to see patients at the Homeless Shelter. Our team worked with the Fourth Street Clinic for three years. I found this to be so rewarding and I learned so much about homelessness. I saw three generations of homelessness. It is so sad and difficult to change this situation. I also worked with a team that cared for women who were abused and some children who were neglected. The YWCA was a place where women could feel safe. It was my job to make sure every resident was immunized and had physical checkups with a physician. Some of the women had special needs. I did a lot of TB tests and lice checks. I ate my lunch at Saint Vincent with the folks that I treated. It was a great place to find out what people needed.
I held many leadership positions in the hospital setting. I worked for the Nursing Administration, scheduling nurses and covering floor shifts. I was inspired by the many nurses at PCM to get my nursing license and come to work with them. I always wanted to be a nurse. I had started my education to become the nurse I would be proud of. I went back to college during this time and obtained my Nursing Degree. I passed the boards and was hired onto the Medical Oncology floor at LDS Hospital. I cared for patients and families that were battling cancer. I believe that was one of the most rewarding jobs because you saw and got to know the entire family and their needs as well as the patient who was so sick from Cancer. Many times, they were able to get well and go home. It was an opportunity to help the patient and family with treatments of Chemotherapy that would put the patient in remission. It was wonderful and inspiring work. What a thrill it was when you could see the patient with family members and go home feeling better. I was happy when we started the oncology unit at Cottonwood Hospital. It was closer to my home and so much more convenient. With my experience, I became an educator in our unit at Cottonwood Hospital. I trained other nurses to teach patients and families about their treatment plans and follow-up care.
I was so glad when I was asked to be part of a team from LDS Hospital with Cottonwood Hospital to begin the first Palliative Care Unit in the hospital setting in Utah. We were able to give a holistic plan of care, making it possible for the patient and family to be involved with their loved one during the last weeks, days, or even hours of life. We were starting care from the bedside of the patient and giving them what they need and want. We now have Palliative care for the patient and family while their loved one is in the hospital. This program has been accepted and has improved over time. I am so pleased. We strive to give what is needed.
As I retired from IMC, I experienced many wonderful opportunities that have prepared me for the position of City Council over my years in these leadership positions. I am a team player and a good listener. If you VOTE Rigby for Utah House of Representatives, I promise to listen and care for our beautiful community and our communities the very best that I can. I promise to be a good team player and to look out for every person's safety and welfare. Vote for Rigby and I will hear your voice. We live in a beautiful town, and we want to make sure we have enough water, enough housing for everyone, and safety in our blooming communities. We are all critical and we all count. I have always thought that our creator made us all equal and all equally important. We need to listen. We have many concerns in our community because of our rapid growth. Our biggest concerns are water, affordable housing, and growth. With our rapid growth, we need to be concerned about the environment, transportation, our roads, and the well-being of our city and our communities. We need to think of ways to grow comfortably. Every single person has special needs and desires. We need to keep on top of all of our needs in our homes and communities. We need to find ways to keep every single person safe and to be able to have appropriate affordable housing. We need to be able to provide a safe affordable happy life for all of us who live in this lovely town. We can do this. We will be the model place for other fast-growing towns to follow. What I intend to do as a citizen and a member of the City Council, is to listen to every voice. Vote for me, I promise to listen. Vote Rigby for Utah House of Representatives.